With a cover and a title like that, I suspected there would be some fun to be had within this wonderfully produced hardcover. 32 pages printed as a board book with rounded corners, A Glimpse of Crime and Terror feels like a children's book in your hands; giving the reader a strange, nostalgic feeling, which strangely goes well with the tommy-gun wielding characters in the first tale.
The title of the book can be taken quite literally: the first of two stories within is a story of the love between a couple of gun-toting outlaws, while the second is a numbers game of survival against the dead.
In "The Bees Knees" creators Steve Niles and Scott Morse place the reader in the middle of a fast, no time to catch your breath, heist story. A noir style for this one; the dialogue is straight from how we hope the bad-asses actually talked in the 1930's. Narrated by tough-guy Chester, he tells us how he couldn't have found a better match for him than Loretta. Her ability to match his intensity, fearlessness, and natural skills with a gun, make the testimony of Chester's love for her passionate and dangerous. Morse's stylized art technique presents things just as explosive and full of spirit as the characters involved. "The Bees Knees" put a grin on my face and reassured me that buying this book was a win.
The second story "Touch" provides the "Terror" flavor from the book's title. With horror stories I tend to give the least amount of details I can get away with; wanting to keep the full impact there for everyone when they read it. I will say that it's a survival tale set amongst the dead and that it moves at a break-neck pace as well. The artwork's color scheme lends the perfect accompaniment with an earthy, military green garnishing the heavy inks. "Touch" taps into the basic formula of how fast the reality of any given situation can change in an instant.
Successfully running with one of my favorite elements from the
EC Comics
:
Niles
and
Morse
get in, hit the reader upside the head, and then they get the hell out. It's fun when it's done well and that's exactly why it works perfectly here.
A Glimpse of Crime and Terror
is the first tease for the "Big ol' 80-Page Hardcover Volumes" that are on the way. You can still purchase copies of this one
HERE
and I think we should all be getting ready for some serious fun when
Crime and Terror
gets going full swing.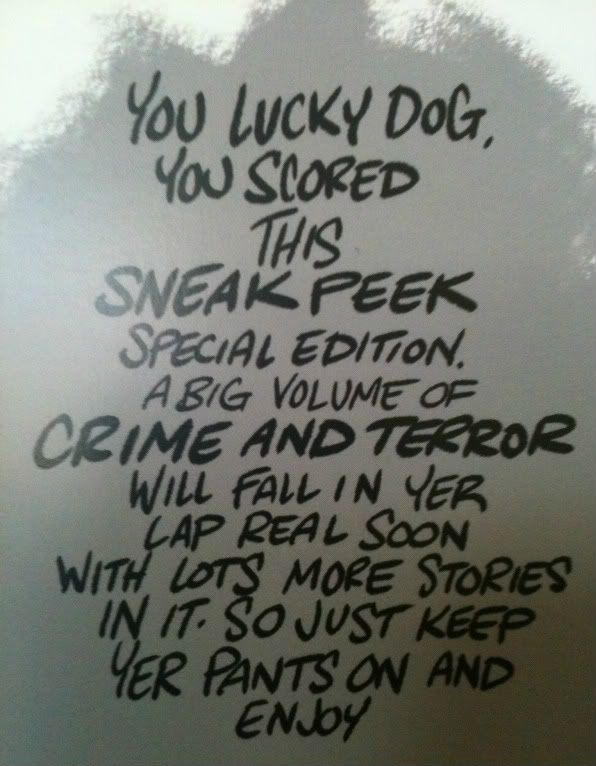 Interior Front Cover Excerpt All Rights Reserved Steve Niles & Scott Morse